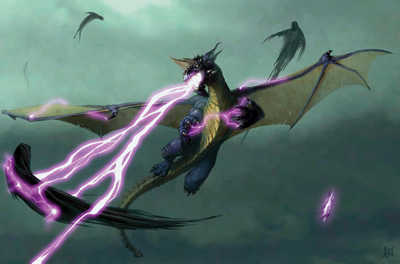 Here are a couple house rules regarding the use of metabreath feats and reach weapons.
Metabreath Feats
When using a metabreath feat, the maximum modifier that may be applied to a breath weapon is equal to the creature's CON modifier. For example, a young blue dragon with constitution 15 may apply no more than +2 rounds worth of metabreath feats. Thus, a young blue dragon could apply Clinging Breath to his breath weapon twice and wait 1d4+2 rounds before using his breath weapon again.
For the purpose of this house rule, treat the Recover Breath metabreath feat as a -1 modifier. Therefore, if the dragon in the example above took Recover Breath once, he could apply up to +3 rounds worth of metabreath feats.
Reach Weapons
By RAW, a reach weapon doubles the natural reach of the creature wielding it. Thus, if a medium-sized creature with a 15-foot natural reach wielded a reach weapon appropriate for its size, it would have an effective reach of 30 feet. Since the polearm in question is likely less than 8 feet in length, an additional 15 feet of reach is inappropriate. Therefore, reach weapons will instead grant a reach bonus equal to the natural reach of a typical tall creature of the appropriate size. For example, a medium-sized glaive grants +5 feet of reach to the wielder, regardless of the wielder's size or natural reach.