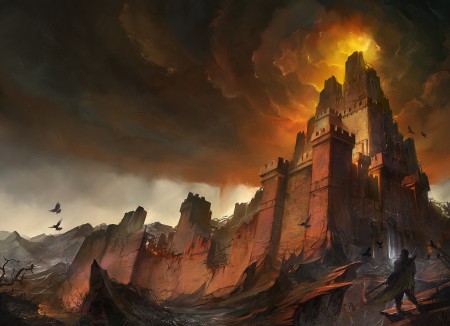 In the game, your characters are residents of a small land which has settled outside of a massive structure which is commonly known as the Citadel. Citadel is unknowably tall and seems to extend endlessly to the North and South. Those who have tried to climb it or fly to its top have disappeared into the clouds that constantly surround its upper reaches.
The Citadel is a trial set forth by gods. It accepts only a few people at a time and seems to be exceptionally picky about who it will accept. Those who enter rarely return, but those that do emerge as some of the most powerful beings in existence.
Your characters are those who have decided to test themselves against the Citadel.
After the last of you entered, the massive door slammed shut and you briefly felt dizzy. You may not have all entered at the same time, you may not know each other (up to you guys) but you are deposited in a small chamber.
Character Creation Guidelines
Strict pathfinder, no 3.5 etc.
Starting at 1st level
Max HP/level for the first 3 levels. After that – rolled HP or average round down
20 point buy points
2 traits
3rd party allowable only with approval
No leadership
No synthesist (summoner archetype)
No hybrid classes (because they're bullshit)
Core races or 10 RP limit
We are NOT rerolling 1s on cure spells or hit dice
Starting wealth will be for 1st level. Each class has a different starting wealth, use the average listed on that to buy equipment.
Characters