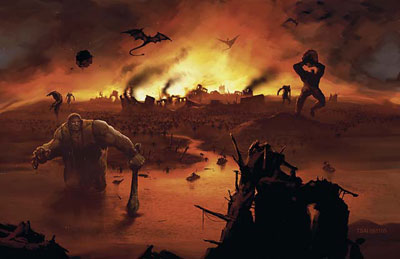 The Blue Shield of Defiance (BSoD) is a reboot of the now twice defunct Red Hand of Doom campaign. The most recent iteration of this campaign module was a Pathfinder adaptation. Despite the merits of the Pathfinder system, I've grown to dislike it, which is why the campaign stalled. To get things rolling again, I am reverting the campaign back to 3.5/3.P. The plot will continue from where we left off with some hand-waving for any character changes.
Although I don't care for the Pathfinder system, it is still a valuable source of material. As such, Pathfinder classes and feats will be available to players with DM approval.
Source Material
The following material is all expressly allowed:
All official, non-campaign specific material

Including web content and web enhancements

All official Eberron campaign material
Hyperconcious
However, the following exceptions are denied:
No flaws or traits
The Bloodstorm Thrower, Planar Shepard, and Ur Priest prestige classes
Any of the following spells or powers, or their derivatives:

Alter Self
Polymorph
Metamorphosis
In addition, the following material is allowed with DM approval:
All Pathfinder/Paizo material
All Dreamscarred Press material
House Rules
All of the house rules detailed here will be in effect. Take special note of these rules while creating your characters.
Character Creation Guidelines
Character level 5
22 point buy using base 10
Partial base attack, partial saves, and only get +2 to a save once
150% character wealth with the 1/3 item rule
Any LA +0 race

Including those with racial hit-dice, with DM approval

Any class

It is strongly recommended that you have high endurance abilities, such as those offered by invokers, binders, initiators, and meldshapers

Alignment in the top-left corner

Alignment restrictions can be refluffed where necessary
Characters